Kylie's Dream: A young girl's posthumous fight to end childhood cancer | News
Title (Max 100 Characters)
Kylie's Dream: A young girl's posthumous fight to end childhood cancer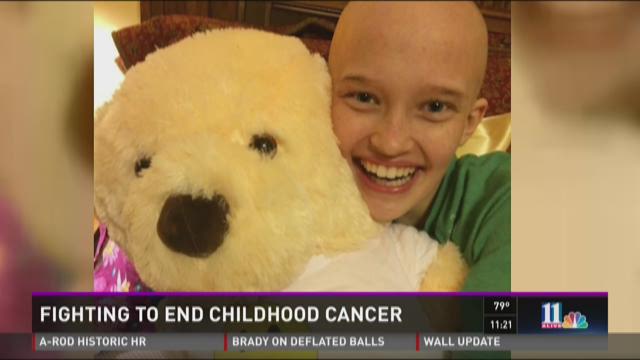 ATLANTA -- Even as a little girl, Kylie Myers' dream was to perform on Broadway.
Last month, that dream finally came true, though, sadly, the brave 12-year-old from Suwanee didn't live to see it.
Now, her parents are fighting hard for Kylie's other dream: putting an end to childhood cancer.
Kylie caught the theater bug early, landing the lead in fourth grade of her school's production of "Annie."
In the video of the play she performs with the confidence of someone much older than her years, with a smile that lit up the stage like a spotlight.
That's why they called her Smiley Kylie.
But last year, she was diagnosed with undifferentiated sarcoma with Ewing's tendencies; 16 soulless syllables that meant she had a greater chance of dying than living.
Still, it wasn't enough to diminish that smile.
"One of the last things she said to us is that if she had to die, then she wanted childhood cancer to die too," recounted her mother, Robin Myers. "We take that seriously. That's something she wanted us to… keep fighting. And that's what we intend to do forever."
Kylie passed away in February. But her legacy was just beginning, with her debut on Broadway in a powerful public service announcement in lights on the Jumbo Screen at Times Square.
Her sisters asked passers-by to watch the video for their reaction. And it hit most of them like a hard punch to the gut.
"It was hard every time it aired," said her father, Mark Myers. "There was a gasp… and it just brought you back to reality that she's there (on the screen), but she's not with us."
The video was produced by TheTruth365 to talk about childhood cancer and the meager 4 percent funding that it gets.
"We desperately need more funding," said Robin Myers. "And we need to raise awareness, and people need to know."
"To see her be able to do that posthumously was great," added Mark. "It was what she wanted; it was what she said on her deathbed. She said 'I want to spread awareness. I want you to kill cancer.'"
A request as simple as it is profound, from a brave young girl who sang of hope.
And makes us all believe.